✓ Servicing Georgetown and the region
✓ No hassle no hidden fee dumpster rental
✓ Get a quote now, call (843) 894-2117
✓ Customer friendly staff
✓ Fastest delivery and pickup in SC
✓ Hundreds of satisfied customers
What Dumpster Size Do You Need for Your Project?
You are probably thinking of removing junk and rubbish from your place or beginning a construction or remodeling project, but you don't have any idea how you are going to do it given the large quantity of waste you will be confronted with. If you are never thought of renting a dumpster container before, you might be feeling quite overwhelmed.
No worries, this is what we are here for. And one of the first questions to answer is what dumpster size to rent. So take a look at the various dumpster sizes we offer here at Georgetown Dumpster Rental HQ, and this will all be soon an easy walk in the park.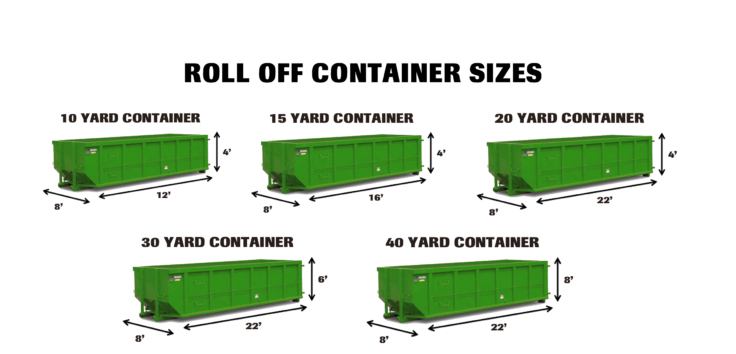 10-15 Yard Dumpsters
Among all our dumpsters, this is the smallest size. When we talk about raw carrying capabilities, this 10-yard dumpster is approximately equal to 3 average pickup trucks of debris, trash, and miscellaneous junk. So even though this is the smallest dumpster container you can hire from us, it can carry a lot of litter already.
These dumpsters have the dimensions of 12' long x 8' wide x 2.6' tall. We usually only recommend these for the smallest projects such as:
A single layer of roofing shingles
Solid wastes, for instance, dirt, bricks, or concrete
Garage, basement or attic cleanout
Kitchen remodelling
10 yard dumpsters are best for homeowners or contractors in South Carolina that have a small-scale home improvement project to complete. It is very easy to place this dumpster on your driveway and it is the ideal choice when a pickup truck can't do the work.
20 Yard Dumpsters
House owners and business people in Georgetown often rent one of our 20-yard dumpster containers. The dimensions of these dumpsters are 13' long x 8' wide x 5' tall. This kind of dumpster is also appropriate for somehow small projects, but not that small. Contractors that have limited space at their workspace often choose this over a 10 yard roll-off dumpster. This dumpster size is ideal for the following tasks:
Larger basement or attic cleanout
Larger garage or shed cleanout
Flooring or carpet removal
Deck removal
Large room renovation
30 Yard Dumpsters
30 Yard roll-off dumpsters is the most popular size of dumpsters we offer here at Georgetown Dumpster Rental HQ. Their compacted size makes them easier to load without consuming much space at your business site. The dimensions are 14' long x 8' wide x 6' high. These large roll-off containers are appropriate for the following projects:
Home addition or remodeling
New home construction
Demolition of a garage or shed
Replacement of windows and siding
40 Yard Dumpsters
If a 30-yard dumpster container is not enough to accommodate all your junk removal needs, then this 40-yard dumpster will be the perfect choice for you. This is the largest dumpster that we offer. The dimensions of this dumpster are 16' long x 8' wide x 6' high. It is going to be useful on larger projects such as:
Commercial clean-out
Commercial renovation or construction
Large Demolition project
Home construction site
Major residential renovation
If you are not sure what size of dumpster is right for your project, call us at (843) 894-2117 so we can help you get the dumpster you need right away! Talk to our professional staff who are very familiar with assessing the correct dumpster size for any project of any scale.
✓ Servicing Georgetown and the region
✓ No hassle no hidden fee dumpster rental
✓ Get a quote now, call (843) 894-2117
✓ Customer friendly staff
✓ Fastest delivery and pickup in SC
✓ Hundreds of satisfied customers